17 août 2013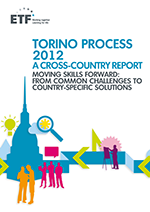 Torino Process 2012 - A Croos-Country Report Moving Skills Forward: From Common Challenges to Country-Specific Solutions.
Preface
The Torino Process is a participatory process leading to an evidence-based analysis of vocational education and training (VET) policies in a given country. It is carried out in order to build consensus on the possible ways forward for VET policy and system development, considering the contributions of VET to enhanced competitiveness, and sustainable and inclusive growth. This includes determining the state of the art and vision for VET in each country and an assessment of the progress that countries are making to achieve the desired results. More specifically, the Torino Process is a vehicle for:
- developing a common understanding of a medium/long-term vision, priorities and strategy for VET development, exploring possible options for implementing this vision and/or making further progress;
- designing and evaluating home-grown and affordable VET policies, based on evidence or knowledge and collaboration;
- updating the analyses and achievements at regular intervals;
- providing opportunities for capacity development and policy learning within and among partner countries and with the European Union (EU);
- empowering countries to better coordinate the contributions of donors to achieving agreed national priorities.
The European Training Foundation (ETF) launched the Torino Process in 2010 and the first round was concluded in May 2011 at an international conference entitled 'The Torino Process – Learning from Evidence'. Among the outcomes of the conference was the establishment of the Torino Process as a biennial policy learning exercise founded on country ownership, participation, and a holistic, evidence-based policy analysis. The second round was launched in 2012. The Torino Process overall is open to all ETF partner countries. This report draws on the lessons learned by the ETF. Its overall objective is to present the progress that has been made in VET policy and system development, and identify constraints and future priorities for the further modernisation of VET policies and systems in ETF partner countries. It is addressed to policy makers and practitioners in the partner countries, but also to officials, researchers, experts and the donor community who are interested in learning more about the partner countries in the field of VET or related policy fields. This report was prepared by ManfredWallenborn, ETF expert, who analysed the information in the regional reports for the preparation of this document. Valuable support was provided by Doriana Monteleone, ETF statistical officer.
This report and the Torino Process are the result of a team effort. The ETF would like to take this opportunity to thank all the counterparts from the partner countries who contributed to the national reporting process in 2012, as well as the ETF country teams which facilitated the process in the countries. The ETF is also grateful to the statistical team and the internal peer reviewers who provided valuable input, comments and suggestions on the final draft of the document. Download Torino Process 2012 - A Croos-Country Report Moving Skills Forward: From Common Challenges to Country-Specific Solutions.
The other Reports.
Torino Process 2012: Central Asia; Eastern Europe; Southern and Eastern Mediterranean; Western Balkans and Turkey; Uzbekistan; former Yugoslav Republic of Macedonia; Kyrgyzstan; Azerbaijan; Armenia; Montenegro - Executive Summary; Kosovo - Executive Summary; Ukraine; Tunisie; Tajikistan; Serbia; Russia; Palestine; Moscow (Russia); Maroc; Montenegro; Moldova; Lebanon; Kosovo; Kazakhstan; Jordan; Israel; Georgia; Bosnia and Herzegovina; Belarus; Albania.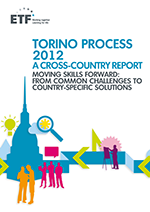 Torino Process 2012 - A Croos-Country Report Moving Skills Forward: From Common Challenges to Country-Specific Solutions.
Executive Summary
This report covers the Western Balkans and Turkey, the Southern and Eastern Mediterranean, Eastern Europe and Central Asia. The objective is to present the progress that has been made in vocational education and training (VET) policy and system development, highlight remaining obstacles in relation to the performance of VET systems, and deduce recommendations for future ETF priorities in the partner countries. In addition, the report presents the ETF's opinion on how partner country VET systems could be further developed to increase the efficiency and effectiveness of VET policies and systems from a lifelong learning perspective.
The report presents the lessons learnt by the ETF regarding the process of reform and modernisation of VET policies and systems thanks to the high level of commitment and substantial efforts made by the partner countries during the 2012 round of the Torino Process.
This report is addressed to policy makers and practitioners of VET systems in the partner countries, but also to officials, researchers, experts and the donor community who are interested in learning more about the partner countries in the field of VET or related policy fields.
There are positive key trends and areas of progress as well as remaining issues for the further development of VET within the four regions with which the ETF cooperates. The countries are inspired by the international debate among experts on VET: VET matters in both an educational and an economic context, being an instrument for short- and long-term employability. The countries are aware of the important contributions of VET to social inclusion and to socio-economic progress in terms of growth and competitiveness. Moreover, they know from their own experience of reforming other educational sub-systems that VET reforms must be in line with the national context, that they take time, and that there is a need for persistent efforts in a number of different areas of VET systems in order to convert VET into a valid instrument for skills development.
The countries and regions analysed in the Torino Process 2012 round vary greatly. However, there are many common issues on which substantial progress has been made since the Torino Process 2010 round, such as the further development of national VET strategies that are coherent with other sector policies, the adoption and implementation of new laws and instruments, such as qualification frameworks (including new professional standards and curricula), decentralisation, greater involvement on the part of the business sector, and the beginning of rationalisation of the VET school networks. This progress is consistent with the seven priorities for further action formulated by the participants in the 2011 Torino Process Conference.
Policy makers in the partner countries are aware that VET reforms must be designed in line with the specific socio-economic and cultural contexts of the countries concerned, and that VET reforms must be linked to capacity building for implementation. However, the main conclusions of the 2012 Torino Process round highlighted five key areas for further action, which are common to all partner countries, if VET is to contribute in an effective manner to economic development, the employability of individuals and their social integration:
- creating shared, long-term visions for the development of skills from a lifelong learning perspective which effectively integrate education, training and employment with economic and social development;
- enhancing the labour market relevance of VET through a closer integration of learning and work, in learning environments that either are already available or could be created in schools, post-secondary institutions and the workplace;
- reinforcing awareness of the contribution of VET to social cohesion, through greater attention to the needs of vulnerable groups, both in initial VET (IVET) and by enhancing access to adult education and training opportunities;
- improving the quality of IVET and continuing VET (CVET), supported by improvements to elements of VET systems, in particular teacher training, teaching methodologies, qualification frameworks and the innovation of educational infrastructure/rationalisation of school networks;
- strengthening the effectiveness of public policy by sharing responsibility for VET governance and delivery between the state, the business sector and other social actors.
This represents an integrated, innovative agenda for sustainable reform in effective and efficient VET policies and systems. In this context, the term 'integrated' comprises a joining up of policy measures bridging VET and national and local development; it embeds VET in lifelong learning; and actively involves key stakeholders in shared multilevel governance. 'Innovative' brings the sense that VET policy is at the state of art – anticipating, rather than reacting to change. It suggests a VET system with the capacity to adapt and which provides the learner with the creative competences that are fundamental for long-term employability. 'Sustainable' brings into the concept both the dimension of green skills serving green economies and communities, and the need for long-term incremental effort to connect vision with implementation.
While 'effectiveness' and 'efficiency' remain key principles for modern, accountable public policy. According to the five building blocks of the analytical framework for the 2012 Torino Process (vision, external efficiency and demographic trends/labour market needs, external efficiency and social demand/inclusion, quality/labour market relevance and governance) the main findings from the 2012 Torino Process can be summarised as follows. The country reports show that all countries are aware that visions and VET system reforms could make a considerable contribution to societal objectives such as increased competitiveness and employability, and inclusive growth if VET reform is part of integrated and holistic country policies. Hence, the countries have developed or are currently developing strategies for VET reform. In theWestern Balkans and Turkey these strategies are closely linked to EU standards and good practice, because the region comprises five candidate countries for EU accession.
The Southern and Eastern Mediterranean shows a more disparate picture in terms of the countries' visions for the design and performance of VET systems. As a result of demographic pressure in many countries, the most important issue is employability for young graduates. However, political instability has generated short-term priorities other than VET reforms.
The need for new visions and reforms in Eastern Europe and Central Asia are currently being discussed intensively. In the early years of transition most of the countries dedicated more of their attention to general education and higher education. Meanwhile, the countries are convinced that a well-performing VET system strongly reinforces their position in a globalised economy and also supports regional mobility. Hence, visions and strategies have been formulated more coherently with other sector strategies, and many countries in Eastern Europe aim at placing more emphasis on the design of lifelong learning strategies, as a result of their ageing societies.
VET reforms that aim at greater efficiency, economic growth and competitiveness are underpinned and justified by socio-economic developments in the regions, such as the increasing numbers of young people looking for work opportunities in precarious labour markets in many of the countries.Whereas in the EU the proportion of the total population aged 15-24 is 11.7%, it ranges from 11.7% to 19.3% in theWestern Balkans and Turkey, from 14.7% to 21.4% in the Southern and Eastern Mediterranean, from 14.0% to 20.8% in Eastern Europe, and from 18.7% to 23.5% in Central Asia.
Demographic development is one driver of high unemployment rates. In the most recent years for which data are available, the average unemployment rate in the EU was 9.7%, while the corresponding figures were between 9.0% and 44.9% in theWestern Balkans and Turkey, between 5.4% and 18.7% in the Southern and Eastern Mediterranean (however, with extremely high youth unemployment rates in Egypt 30%, Jordan 30%, Palestine 36%, Syria 32% and Tunisia 42% in 2011), between 5.5% and 19.3% in Eastern Europe and between 5.4% and 11.6% in Central Asia.
In many countries the outcomes of different education levels are not always appropriate either for current demands or for the challenges of the future, including the successful social inclusion of all learners, which is more related to the labour market relevance rather than to the level of educational offers. The countries of the former Soviet Union are still characterised by a significant amount of formal education but not always with sound levels of employability for the learners. In the EU the proportion of the total population aged 15+ that has completed at least upper secondary education amounts to 67.5%; the same proportion is between 69.2% and 93.9% in the Eastern European countries and between 71.2% and 90.2% in the countries of Central Asia. However, in the countries of theWestern Balkan and Turkey region the proportion is lower, at between 28.8% and 70.1% and in Southern and Eastern Mediterranean countries between 17.0% and 74.7%.
The situation in the Western Balkan and Turkey, and Southern and Eastern Mediterranean regions is linked in part to low levels of educational expenditure as a percentage of gross domestic product (GDP), exacerbating the problems faced by those from vulnerable groups and ethnic minorities. In the EU the percentage of GDP is 5.4%, but between 3.5% and 4.3% in the Western Balkans and Turkey and between 1.8% and 5.8% in the Southern and Eastern Mediterranean. The picture is more positive in Eastern Europe, where the percentages range from 3.2% to 9.1%, and in Central Asia, with percentages between 3.1% and 8.3%.
The quality and labour market relevance of VET programmes are key challenges for innovation and reform in all VET systems. This includes the acquisition of key competences as sound foundation skills and tools for adaption to future challenges – suitable for both short-term employment and longer-term employability. In this respect, the country reports describe policy improvements in particular in the field of entrepreneurial learning. This is seen by policy makers as having a high potential to generate a more dynamic culture among young people, business and communities and a fertile environment for job creation. The remaining problems are twofold: the need for improved employability and hence, inclusion, for learners is still a key priority, as is the need for increased competitiveness and sustainable growth. A great deal remains to be done through more effective practice-oriented modes of learning that are relevant to the labour market, and supported by better educational infrastructures in schools and enterprises, increased vocational guidance, improved training for teachers in new methodologies, updated textbooks and curricula, and more effective management on the part of school directors under the guidance of school boards with local community representation.
Such innovations in the elements of VET systems must be supported by new governance modes that involve all relevant social actors at different functional levels in future VET policy outlines. Ministries of education are also on their own transition pathway from bureaucratic administrators to intelligent moderators of social processes leading to improved VET system performance that is relevant to the labour market. A certain diversification of VET provision supports such trends: private training providers and enterprises that are working at the forefront of technology or dealing with international standards increasingly perceive VET to be an appropriate tool for business development through the updating of human capital. Traditional, publicly driven vocational schools are to some extent losing their prevailing position in human capital development in certain economic sectors, while private providers are gaining ground. Moreover, public schools have also started to cooperate with the business sector in order to better cover new learning outcomes and foster more work-based learning for increased employability.
Such processes imply the involvement of the social partners in VET policy development and implementation, and the support of additional modes of learning at the workplace in professions. These measures require capital-intensive learning environments, and are not generally available in vocational schools. A number of effective arrangements are already in place. However, the countries concerned still face challenges in installing new modes of governance according to their specific contexts.
The influence of EU policy is strongly felt across the partner countries in all education and training sub-systems. While theWestern Balkans and Turkey, and in particular the candidate countries, are engaged in Enhanced EU Cooperation in VET, in other regions the European influence on VET refers to national qualifications framework (NQF) development, quality-assurance procedures and European models of VET governance.