01 novembre 2012
A report on postgraduate education by the Higher Education Commission was launched today. The report, 'Postgraduate Education: An Independent Inquiry by the Higher Education Commission', makes an interesting and useful contribution to the postgraduate debate. HEFCE provided evidence to the inquiry and has informed the Higher Education Commission about our enhanced work in this area. HEFCE has supported the development of a diverse and successful postgraduate sector, including through additional funding of more than £200 million for taught and research programmes between 2012-13 and 2014-15. As the report highlights, we are undertaking research on postgraduate activity. This is intended to inform discussions with Government, the higher education sector and other stakeholders on the approach to postgraduate funding from 2015-16, the first year in which higher fee-paying students may enter postgraduate study.
The research HEFCE is undertaking includes work on:
establishing the costs of and fees charged for of postgraduate study
investigating the information needs of current and potential postgraduate students
improving understanding of demand for postgraduate study from final year undergraduates before and after the undergraduate reforms, through a survey linked to the National Student Survey
identifying issues around widening participation and access for postgraduate students, including transition rates from undergraduate to postgraduate study for different socioeconomic groups
working with Research Councils UK and Universities UK on the outcomes of postgraduate study, such as employability and workplace impact, and on issues of research quality such as those identified in the report.
Further details of HEFCE's work on postgraduate study.
Notes
Exchange of best practices on the gender pay gap, 29-30 October 2012, Limassol, Cyprus Venue: Grand Resort, Lemesos (Limassol)
Objectives
This tripartite Cyprus presidency conference is organised by the
Department of Labour - Cyprus Ministry of Labour and Social Insurance
.
One of the aims of the conference is to highlight practices and measures which enterprises may implement in order to eliminate the gender pay gap and promote the principle of equal pay between men and women.
Government officials and representatives from employers' and workers' organisations from the Member States of the European Union will have the opportunity to discuss remaining challenges and identify best practices in the area.
Eurofound contributions
Occupational segregation: Impacts on female and male workers
, by Isabella Biletta
Occupational segregation is a well-known and persistent feature of European labour markets. It is mainly associated to female workers' behaviour on the labour markets; their positioning is assumed to be 'specific'. The impacts of occupational segregation on work, for both men and women, are significant. Nevertheless, it should be kept in mind that what occurs in labour markets almost mirrors the way society is organised; therefore, societal path-dependency should not be overlooked when addressing occupational segregation and other gender issues on the labour market. Overall, gender issues are still challenging social partners views and actions.

Promoting income transparency through social dialogue in Austria, by Christine Aumayr-Pintar

The presentation will focus on the recent policy developments in Austria with regard to creating income transparency as one means of reducing the gender pay gap. It will feature in particular the new instrument of 'income policy reports', which in a step-by-step procedure from 2011 – 2014 has to be carried out by companies of different sizes. Finally it will look at the social partners' concrete actions in supporting implementation of this policy.
The annual conference of the Asian Association for Open Universities (AAOU) took place from 16–18 October in Chiba, Japan, and was attended by more than 300 open university presidents, administrators, teachers and researchers. Open Universities are among the largest global providers of learning opportunities in adult education and lifelong learning. A large number of their adult students are professional teachers seeking continuing education and new subject knowledge for career development or to improve the quality of their teaching. The 52 members of AAOU have a combined student body of over 12 million, while three open universities have enrolments of more than 2 million students each.
The conference focused on the issue of Open Educational Resources (OER). Many open universities in Asia are already engaging with OER, by making learning materials available online free of charge, and collecting and collating existing free online material. These practices have reduced student costs considerably.
In his keynote speech, Mr. Arne Carlsen, Director of the UNESCO Institute for Lifelong Learning (UIL), focused on the role of open universities in lifelong learning for all, particularly in relation to inclusion and sustainable development. He referenced the Paris Declaration on OER, adopted at the World Conference on OER, which was organised by UNESCO and the Commonwealth of Learning in June 2012. In another keynote speech, the President and CEO of the Commonwealth of Learning, Ms. Asha Kanwar, invoked many cases of OER at the global level. Ms. Kanwar also spoke about Mass Online Open Courses (MOOCs), and presented an example of a MOOC involving more than 160,000 participants.
The National Agency for the European Lifelong Learning Programme, ANEFORE, and the Ministry of Education and Training in Luxembourg, have worked together for more than a year to produce a white book on "Defining a Lifelong Learning Strategy for Luxembourg". This process has involved consultations with all major stakeholders. The result is a stocktaking of the current situation under seven headings: provision, access, quality, competences, mobility, certification, and guidance counselling. The white book concludes with a proposal for a strategy.
The launch of the white book took the form of a 2-hour conference on 10 June 2012, which was attended by 80 key stakeholders, most importantly Luxembourg's Minister of Education and Training, as well as various directors of ministries, trade unions, chambers of commerce and industry, and of education institutions. The conference was opened by the Director of ANEFORE, Ms Karin Pundel, and the keynote speech on "The Importance of a Strategy for Lifelong Learning" was given by Mr Arne Carlsen, Director of the UNESCO Institute for Lifelong Learning (UIL). Mr Carlsen spoke about the development of the concept of lifelong learning, its implementation in Europe, the justification for a strategy, the role of major stakeholders, state, enterprises and social partners, and key elements of strategies in other European countries.
Mr Carlsen's keynote speech was followed by a presentation on Luxembourg's upcoming Lifelong Learning Strategy, by the Minister of Education and Training, Ms Mady Delvaux-Stehres. In her presentation the Minister referred to inspiration from UNESCO in relation to the social dimensions of lifelong learning, and commented that Luxembourg in its first steps had focussed primarily on the economic dimension. For more information please visit http://www.s3l.lu/default.aspx.
The University of Pécs in Hungary is the only university in Europe with a Faculty of Adult Education and Human Resources Development. It also has the largest student body of any university faculty of adult education, with a total of 1,602 students of adult education alone This faculty therefore has a strong influence on adult education research, not only in Hungary, but throughout Europe. Following the launch of the EU's 2020 Strategy for Growth and the Revised European Agenda for Adult Learning in spring 2012, the Faculty is now looking to Asia and to UNESCO in order to expand its international profile and develop a new European research agenda for lifelong learning. It therefore hosted, in partnership with Europe Direct Info Point Europe of Baranya County a conference entitled "Adult Learning and Education in Europe – Promoting the EU 2020 and the UNESCO UIL goals in the scope of the ASEM partnership" from 5─6 June 2012.
The conference was attended by 80 university lecturers and researchers. In his keynote speech, Arne Carlsen, Director of the UNESCO Institute for Lifelong Learning (UIL), made reference to Hungary hosting the CONFINTEA VI preparatory conference for Europe. He highlighted the human rights basis of UNESCO's work, its humanistic values, and relevant responses to new trends and developments in the world. He pointed to the enlarged roles of technical and vocational education and training (TVET) and higher education in relation to lifelong learning, and to the growing need for research within and outside the education sector, as the understanding of learning expands. He envisaged a situation in which functional literacy would re-emerge as a major issue in Europe, which could lead to a new and more universal literacy agenda, in which developed and developing countries can meet.
Presentations by Mr Uwe Gartenschlaeger, Vice-director of the German Adult Education Association (DVV), and by Heribert Hinzen, DVV's Regional Director for South and South-East Asia, focused on the civil society view of EU2020, and on cooperation between Europe and Asia in the field of adult education and lifelong learning. The organiser of the event, Mr Balazs Nemeth, ended the conference with a presentation on "Adult Learning and Social Democracy".
More information on the conference can be found at http://hrdconf-pecs2010.eu/?page_id=7.
Higher Education Empirical Research Database - Informing policy and practice

The Higher Education Empirical Research (HEER) database comprises summaries of the latest published research on a range of topics related to higher education.
It is intended for use by policy-makers, academics and researchers in higher education.
The database is fully searchable by theme, publisher and date. It is
free to register
.
What is HEER?
The Higher Education Empirical Research (HEER) database comprises summaries of the latest published research on a range of topics related to higher education. It is intended for use by policy-makers, academics and researchers in higher education. The database is fully searchable by theme, publisher and date. It is
free to register
.
As a registered user you gain access to the full summaries and subscription options to receive email notifications as soon as new research is added to the database.

What research is included?
Relevant published research is identified through regular scanning of:
higher education journals
official reports from UK and international policy bodies
statistical sources (for example the Higher Education Statistics Agency and Organisation for Economic Co-operation and Development)
websites of relevant higher education organisations.

Themes
The themes currently covered by the database are:
Access and widening participation
Curriculum (including learning, teaching and assessment)
Economic and social context of higher education
Generic Themes
Graduate labour market
Institutional management, staffing and finance
Quality assurance and enhancement
Research
Student experience
About QAA
The Quality Assurance Agency for Higher Education (QAA) manages HEER.
QAA's mission is to safeguard standards and improve the quality of UK higher education. We offer advice, guidance and support to help UK universities, colleges and other higher education providers offer the best possible student experience.
Find out more on the QAA website
.

Our management of HEER
HEER was developed by the Centre for Higher Education Research and Information (CHERI) of The Open University and has established itself as a well-respected information resource for the higher education community.
It has been owned and managed by QAA since September 2011.
European Parliament endorsed Budgetary Committee´s views on EU Council cuts in the European Commission's budget proposal for 2013. The cuts must be reversed, said the MEPs in a plenary vote last Tuesday 23 October in Strasbourg.
Reinstating funding for payments in 2013 would help to protect popular EU programmes, such as Lifelong Learning, against funding shortfalls like those that disrupted them this year.
"We saw this coming and we want to avoid further patchwork in next year's budget. The last thing companies, researchers, students and other beneficiaries of EU programmes need is insecurity about the Commission honouring its legal commitments. We hope the member states' finance ministers recognise this and follow up on the growth pact agreed by their heads of state and government at the summit in June", said EPP´s Giovanni La Via (IT), who is steering the lion's share of the budget through Parliament.
The resolution was passed with 492 votes in favour, 123 against, and 82 abstentions.
After the vote, the Council informed the European Parliament that it cannot approve all its amendments for the 2013 EU draft budget. Therefore a three-week conciliation period started on October 24, aimed at bridging the gap between the divergent positions of the European Parliament and the Council.
Conciliation between the Council and Parliament started on the evening of Friday 26 October 2012. The closing meeting is scheduled for Friday 9 November. If an agreement is reached, the Parliament will vote again at the November plenary session. [via European Parliament Press Service and Council of the European Union press centre]
Previously published on EU Budget 2013:
15.10.2012: Lifelong learning at stake in EU budget 2013: European Parliament wants to restore funds cut by Council.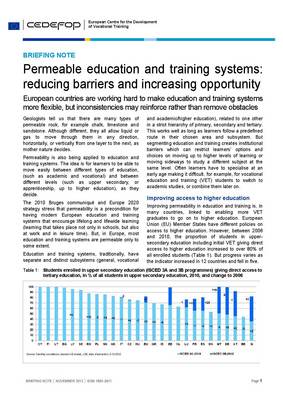 Cedefop - Briefing note - Permeable education and training systems: reducing barriers and increasing opportunity.
European countries are working hard to make education and training systems more flexible, but inconsistencies may reinforce rather than remove obstacles
Geologists tell us that there are many types of permeable rock, for example chalk, limestone and sandstone. Although different, they all allow liquid or gas to move through them in any direction, horizontally, or vertically from one layer to the next, as mother nature decides.
Permeability is also being applied to education and training systems. The idea is for learners to be able to move easily between different types of education, (such as academic and vocational) and between different levels (such as upper secondary, or apprenticeship, up to higher education), as they decide.
The 2010 Bruges communiqué and Europe 2020 strategy stress that permeability is a precondition for having modern European education and training systems that encourage lifelong and lifewide learning (learning that takes place not only in schools, but also at work and in leisure time). But, in Europe, most education and training systems are permeable only to some extent.
Education and training systems, traditionally, have separate and distinct subsystems (general, vocational and academic/higher education), related to one other in a strict hierarchy of primary, secondary and tertiary. This works well as long as learners follow a predefined route in their chosen area and subsystem. But segmenting education and training creates institutional barriers which can restrict learners' options and choices on moving up to higher levels of learning or moving sideways to study a different subject at the same level. Often learners have to specialise at an early age making it difficult, for example, for vocational education and training (VET) students to switch to academic studies, or combine them later on.
Improving access to higher education
Improving permeability in education and training is, in many countries, linked to enabling more VET graduates to go on to higher education. European Union (EU) Member States have different policies on access to higher education. However, between 2006 and 2010, the proportion of students in upper-secondary education including initial VET giving direct access to higher education increased to over 80% of all enrolled students. But progress varies as the indicator increased in 12 countries and fell in five.
Countries have different strategies to strengthen links between upper secondary and tertiary education. For example, the Lehre mit matura in Austria and the Yrkesveien in Norway allow vocational candidates to move directly to relevant studies at tertiary level.
Beyond access: recognising individual learning experiences
Enabling and encouraging formal access to education or training, at any level, is important, but it is only a first step. Real permeability must enable learners to transfer and build on all types of their prior learning – formal, non-formal or informal – wherever that learning took place, at school, work or during leisure.
Consequently, deciding whether someone can:
- have access to certain forms of education and training;
- be admitted to a specific course or programme;
- be exempted from certain parts of it;
- have their prior learning recognised as equivalent to a particular qualification; and/or
- have the right to practise in an occupation;
should depend, not only on formal learning, but also recognise all types of prior learning. For learners this broader view of what is considered as relevant learning makes a substantial difference. It gives value to learning outcomes acquired over time and in different settings.
National practices emphasise recognition of formal qualifications for access or admission purposes. Exemptions from courses and programmes on the basis of prior learning – and so avoiding duplication – are less common and less-widely accepted. For example, universities generally grant access but allow only a few people to skip parts of a study programme because of prior learning (European inventory on validation of non-formal and informal learning, report on validation in higher education: http://libserver.cedefop.europa.eu/vetelib/2011/77645.pdf). However, experiences with validation in countries such as Finland, France, Norway, the Netherlands and Portugal show that it is possible to move in this direction.
Over the past two decades there has been a steady development of European and national initiatives supporting validation, recognition and credit transfer. Increasingly linked to emerging qualifications frameworks, these instruments may be seen as building blocks of a strategy to develop permeability in education and training.
European initiatives must be implemented nationally. Work to develop and implement NQFs seems to confirm that countries are giving priority to making systems more flexible and to strengthening permeability.
Approximately 30 European countries are developing or have designed comprehensive NQFs that cover all types and levels of qualifications. Comprehensive NQFs make it easier to see relationships between different types and levels of qualifications. In many countries, NQFs have highlighted problems in relationships between general, vocational and academic qualifications. As a result, countries have found different ways to accommodate different types of qualifications. For example, in Germany, Ireland, and Lithuania NQFs combine all types of qualifications at all levels, including the higher ones, but Austria's NQF divides its higher levels into two parallel strands. One covers qualifications awarded by higher education institutions and the other professionally or vocationally-oriented qualifications awarded outside higher education institutions.
Some countries, such as Finland, the Netherlands, Sweden and Norway, are going further, using their NQFs to show links between initial and continuing education and training. NQFs are likely to become a key instrument for identifying all types of learning opportunities at the same or different levels.
Permeability and institutional reform
Relationships between VET and higher education, institutional structures and education and training profiles significantly influence permeability. A recent Cedefop study (Cedefop (2011), VET at higher education and training levels, http://www.cedefop.europa.eu/EN/publications/18646.aspx) shows that developing VET at higher qualifications levels (EQF levels 5-8) is gaining momentum. Developments range from new institutions, Sweden, for example, has introduced advanced vocational education operating at EQF levels 5-7, to strengthening and refocusing existing professional bachelors. Germany, for example, has over 150 courses for professional bachelor degrees, which include practical experience and are fundamental to the trade and industry sectors. Access to professional bachelors requires completion of initial VET (dual system) and professional VET and some years of experience. Other examples are the Brevet de technicien supérieur in France, associated degrees in Belgium and the Netherlands, Istruzione e formazione tecnica superiore in Italy and higher certificates in Ireland. These qualifications are important for increasing permeability because they grant VET candidates access to tertiary education while, at the same time, improving job prospects because they of their value on the labour market.
The blurring borderline between VET and higher education is increasing permeability. To enable individuals to move vertically and horizontally through education and training systems entails providing relevant training at all levels. This requires strengthening vocational and professional elements of tertiary education and taking full account of the role played by general knowledge and transversal skills and competences at all levels of VET. Reducing initial VET to narrow technical skills would seriously limit individuals' ability to pursue lifelong and lifewide learning and so make permeability impossible.
Sinking permeability
While many steps have been taken to make education and training systems more permeable, there is a danger that learners will continue to face barriers to their desired learning paths.
Validation, recognition, credit transfer and qualification frameworks are only slowly becoming permanent features of the European education and training landscape. In many cases, they cover only parts rather than the whole education and training system and, paradoxically, are reproducing the segmented and hierarchical structure they are meant to bridge.
For example, European credit transfer systems for VET and higher education are being developed separately, potentially reducing rather than increasing permeability. The situation for academic recognition is similar. Some centres in the academic recognition networks ENIC and NARIC support VET students and provide information on VET qualifications, but this is not a specific task of the network. A more systematic exchange of information on recognition of VET qualifications throughout Europe is needed.
There are similar problems with validation. Countries have largely chosen to develop validation arrangements linked to subsystems, such as VET and higher education. Few initiatives have emphasised the links between different subsystems and institutions. An exception is France where all qualifications registered in its NQF can also be awarded through validation.
Problems bridging different parts of the education and training system and their respective institutions are not confined to the public sector. A new Cedefop study (Cedefop (2012, forthcoming), The use of validation by enter-prises for human resource and career development purposes) on validating non-formal learning in European enterprises illustrates problems of coordination between the public and private sectors. While a large proportion of the 400 enterprises in the study have established validation systems to assess and record competences, hardly any interact with public validation systems developed in recent years. The study points to the need for practical solutions to enable employees to use acquired skills and competences in choosing further education, training and new employment.
That different instruments need to work together is well understood. The key link between enterprises and the public sector in developing and implementing European and national validation initiatives is emphasised as a prime objective. But links and interaction between different private and public sector instruments can only be established in the longer term. But the almost total absence of contact and communication between actors and institutions is, perhaps, a warning sign that things may not work as hoped.
Permeable minds
Permeability is not only about institutional and bureaucratic barriers. Family background is a major factor influencing education and training choices and careers. Cedefop's recent study on labour market outcomes (Cedefop (2012), From education to working life http://www.cedefop.europa.eu/EN/publications/20448.aspx), shows that learners' education and training preferences are still strongly influenced by their parents' educational backgrounds. This includes choosing between general education and VET and deciding whether or not to go on to tertiary education. The study argues that this consistent (it has not changed in recent decades) 'reproduction of inequality' partly sustains a structure of higher education, which is perceived as inflexible and of limited relevance. This implies weak intergenerational mobility both between occupations and education levels.
Absorbing the lessons
Moving towards permeable education and training systems requires bridging subsystems and reducing barriers between levels and institutions of learning and qualifications. The European Commission and Council's 2012 joint report said that segmentation of education and training systems is an obstacle to developing flexible learning pathways.
Many countries have taken significant steps to bridge the divide between different parts of their education and training systems. Instruments are partly in place, but the challenge of implementing them is substantial. Progress is, sometimes, hampered by a lack of coordination. Strategies that strengthen links and encourage synergy between European and national initiatives are needed.
Similarly, deciding levels of qualifications on the basis of learning outcomes provides a real opportunity to make education and training systems more permeable and interactive. However, the full potential of learning outcomes can only be realised through close cooperation and dialogue between sectors and education and training subsystems.
The danger is that learning outcomes will be implemented differently in general, vocational and academic education and training, cementing rather than reducing existing barriers. If the shift to learning outcomes is to support permeability, there must be common agreement as a basis for dialogue, understanding and trust. Work on implementing NQFs and learning outcomes has demonstrated the need for comprehensive strategies if future developments are to succeed.
As for changing attitudes, increased visibility of VET at tertiary level could increase intergenerational mobility. This requires a focus on the overall transparency of education and training systems, showing how learning may be pursued in close relation to employment and career opportunities. Establishing such visible pathways requires systematic removal of dead-ends and barriers. Learners should be aware of possible vertical and horizontal learning pathways and their options.
An education and training system's permeability should be judged by its ability to encourage individual learning and offer various learning pathways. Learners need opportunities to continue learning throughout their lives to avoid being caught between a rock and a hard place.
Box 1: European initiatives supporting permeability: validation, recognition, credit transfer and qualifications frameworks
At European level
- Validation has been systematically promoted since European principles on validation of non-formal and informal learning were adopted in 2004. Following wide-spread experimentation in Member States, the European Commission has proposed a recommendation (http://ec.europa.eu/education/lifelong-learning-policy/ informal_en.htm) on validating non-formal and informal learning.
- Recognition is pursued in two distinct ways. Networks of academic recognition centres (the European network of information centres (ENIC) and the national academic recognition information centres (NARIC) support learners and institutions with access to and progression in higher education. The EU's directive (2005/36) addresses relationships between professional qualifications and occupations in the labour market through systems of automatic recognition (for architects and health sector professions) and general recognition.
- Work on credit transfer is carried out through the European credit transfer system for higher education (ECTS) part of the Bologna process and the European credit system for VET (ECVET), which is based on the 2009 recommendation of the EU Council and Parliament.
- National qualifications frameworks (NQFs) classify qualifications according to a set of levels based on learning outcomes. NQF levels reflect what the holder of a certificate or diploma is expected to know, understand and be able to do. The European qualifications framework (EQF) covers all levels and types of qualifications (general, vocational and higher education and training). By linking or 'referencing' NQFs to the EQF, learners and employers will be able to compare the levels of qualifications awarded at home and by other countries.
The notion of giving credit in higher education for learning that takes place outside the university was first raised by the European Commission in the Memorandum on Higher Education in the European Community (1991), issued by the then Task Force on Human Resouces, Education, Training, Youth:
'The mainstreaming of continuing education raises a number of essential academic issues which must be resolved. Foremost among these is the question of access and the basis on which continuing education students and mature students generally are admitted to higher education courses. The positive policies which are to be observed in some institutions and which give credit for maturity and for knowledge and experience gained in the labour market would need to be adopted on a wider scale, as would the provision of preparatory courses which supply the basic preparation relevant to embarking on a particular course of higher education.' (p24)
It next appeared in 1995 in a White paper which stated that the identification and validation were an important part of realising lifelong learning, in particular making visible is learned outside formal education and training, recognising a diversity of learning situations and settings and looking for credibility and authenticity of such learning.
This orientation was confirmed in 2000 in documents launching the lifelong learning perspective. The Memorandum on Lifelong Learning published by the Commission on 30 October 2000 ("Commission Staff Working Document: A Memorandum on Lifelong Learning") states: "lifelong learning sees all learning as a seamless continuum from cradle to grave". It identifies "three basic categories of purposeful learning activities":
- formal learning takes place in education and training institutions, leading to recognised diplomas and qualifications;
- non-formal learning takes place alongside the mainstream systems of education and training and does not typically lead to formalised certificates. Non-formal learning may be provided in the workplace and through the activities of civil society organisations and groups;
- informal learning is a natural accompaniment to everyday life. Unlike formal and non-formal learning, informal learning is not necessarily intentional learning.
These intentions were confirmed by the Communication from the Commission published one year later, on 21 November 2001, "Making a European area of lifelong learning a reality" after a European wide consultation of governments and stakeholders. The Commission gave its definition of lifelong learning "all learning activities undertaken throughout life, with the aim of improving knowledge, skills and competences within a personal, civic, social and/or employment related perspective. The breadth of this definition also draws attention to the full range of formal, non formal and informal learning activity". And the Commission announced that initiatives would be taken by the end of 2002 initiating a systematic exchange of experience and good practice in the field of identification, assessment and recognition of non formal learning.
Since then, more or less all documents on Lisbon, Bologna and Copenhagen Processes have referred to this intention, reflecting the increasing political attention given to learning that takes place outside education and training organisations.
In the Copenhagen declaration, the European Ministers of Education and Training stated that there was a need to "develop a set of common principles regarding validation of non formal and informal learning with the aim of ensuring greater comparability between approaches in different countries and at different levels".
In the Berlin Communiqué, Ministers responsible for Higher Education stated that they were taking steps "to enhance the possibilities for lifelong learning at higher education level including the recognition of prior learning. They emphasise that such action must be an integral part of higher education activity".
In the Report from the Education Council to the European Council "on the concrete future objectives of education and training systems" which set out the contribution of education and training to the Lisbon Process, it identified the need for "inclusive and coherent education and training systems, which are attractive both for young people and adults, as well as a strategy which overcomes the traditional barriers between various parts of formal education and training and non-formal and informal learning". And the 10 year workplan stipulated that Member States should "develop ways for the official validation of non formal learning experiences".
The preoccupation with the formal recognition of non-formal and informal learning has not been developed with the introduction of Lifelong learning in the European agenda. Numerous experiments and activities have been initiated since the 1980's, especially in UK and in France. Assessment of Prior Experiential Learning (APEL) or Assessment of Prior Learning (APL) in UK or Validation des acquis personnels et professionnels in France (1985 Decree) have been promoted by pioneering universities or higher education institutions in order to facilitate access to higher education or to offer exemptions for part of programmes for people who do not have the required qualifications.
First Experiments
These initiatives have also been supported by the European programmes (such as Leonardo da Vinci) through opportunities for exchanges, sharing good practice, comparative analysis and dissemination. In 1994, the CEDEFOP launched a first comparative study of experience in France and in the UK, which was continued on broader basis in 1997. The main objective of the CEDEFOP project - "Identification, validation and accreditation of prior learning" - was to gather, analyse and disseminate experience.
Reports:
- CEDEFOP (1994/1996) "Identification and accreditation of skills and knowledge acquired through life and work experience"
- CEDEFOP (1997) Identification and validation of prior and informal learning: experiences, innovations and dilemmas"
- Jens Bjornavold/CEDEFOP: "Making learning visible", 2000, N. Evans (eds) "Experiential Learning around the world : employability and the global economy", 2000.
The process of adoption of common principles started in Copenhagen in 2002. In Copenhagen 31 Ministers of Education and Training, the European social partners and the Commission stated that there was a need to develop "a set of common principles regarding validation of non formal and informal learning with the aim of ensuring greater comparability between approaches in different countries and at different levels". This reflects the conclusions of the European Conference on validation of non-formal and informal learning in Oslo in May 2002.
Common principles
An expert group was appointed by the Commission in February 2003 which produced its final proposal 03 March 2004 ("Common European Principles for validation of non-formal and informal learning, final proposal from the Working Group H").
This proposal was followed by a proposition of the Commission in May 2004 and by the Draft conclusions of the Council and of representatives of the Governments of the Member States on 18 May 2004 leading to the adoption of "common principles". They stressed that "common principles are necessary to encourage and guide the development of high-quality, trustworthy approaches and systems for the identification and validation of non-formal and informal learning ...and to ensure the comparability and wide acceptance of different approaches and systems". And they invited the Member States and the Commission to disseminate and promote the use of the Common European Principles:
- To encourage social partners to use and adapt them for the specific needs of the workplace
- To encourage NGOs providing LLL opportunities to use and adapt them as appropriate
- To support the exchange of experiences and mutual learning
- To strengthen co-operation with international organisations to achieve synergies
- To develop and support coherent and comparable ways of presenting the results of the identification and validation at European level
- To consider how instruments in the Europass framework can contribute to this
- To consider how these principles can contribute to the development of a European Qualifications Framework
- To support the development of quality assurance mechanisms, to disseminate good practices.
This was confirmed in the final Communiqué of the Conference of European Ministers of Education in Oslo in June 2004, "Lifelong learning from rhetoric to reality". The EU Council conclusions on European principles for identification and validation of non-formal and informal learning were to be used as reference point and baseline when exploring and developing suitable practical national solutions. The European Ministers supported the emphasis in these Principles on the entitlement of individual citizens to identification and validation of their non-formal and informal learning, the importance of involving all relevant stakeholders in this process, and the need for quality assurance mechanisms to ensure credibility and trust.
European guidelines
A Cluster on "Recognition of Learning Outcomes" was set up by the Commission in the context of Education and Training 2010 monitors the implementation of the Common Principles. On the basis of the conclusions of several peer learning discussions a new step has now been proposed with the definition of European Guidelines to support "quality improvement in validation processes" and "to enhance the compatibility and comparability of validation processes across institutional, regional and national boarders".
This proposition was presented and discussed during the Lisbon Conference "Valuing learning: European experiences in validating non-formal and informal learning" on 26-27 November 2007. This draft proposition will now be introduced through the normal procedure for adopting European documents.
Inventories
Four inventories of validation of non formal and informal learning practices in Europe are now available.
The first inventory was produced in 2000 by Jens Bjornavold, "Making learning visible - identification, assessment and recognition of non-formal learning in Europe". This report listed the existing practices in European countries and identified 5 models: Austro-German, Mediterranean, Nordic, NVQ, and Franco-Belgian.
The second inventory was produced by Danielle Collardyn and Jens Bjornavold in 2003, "Validation of non-formal and informal learning, a European Inventory, National policies and Practises". It was presented as an introduction of Group H's reflection. According to this inventory considerable development can be observed, since 2000. An increasing number of countries have introduced legal and institutional frameworks making possible validation of non-formal and informal learning on a permanent basis and as an integrated part of existing education and training systems. But in practice, the validation of non-formal and informal still appeared only as small islands in the ocean.
The third inventory and fourth inventory were produced by ECOTEC Research and Consulting in 2005 and 2007. In the introduction to its first Inventory, ECOTEC stated that "in spite of numerous valuable contributions, existing information on validation of non-formal and informal learning is still rather limited in scope in many countries, and too widely spread in academic publications, policy papers". So, the objective of the European Inventory was to make non-formal and informal learning more visible "by collecting updated information on current practices and making this information, including best practices examples, available within a single volume to a wide range of audiences". The Inventory consisted of National reports on the "state of art" in every European country covering Vocational Education and Training, Higher Education and third sector and of an overview of findings.
Initiatives and practice
Validation of non-formal and informal learning has probably been one of the most debated issues of education and training policies at European level. It is impossible to mention all projects, conferences, initiatives and publications developed during recent years.
EUCEN is one important contributor in the debates, notably at higher education level. In addition to presentations in numerous conferences, two projects managed by EUCEN - Transfine and Refine - proposed important contributions to the development of validation of non formal and informal learning. Transfine was a "Joint action project" funded by DGEAC to set up innovative approaches establishing transversal procedures between different types of training and learning programmes, at different level, offering several types of partnership. The main objective was to explore ways to build a system of transfer and accumulation of learning credits for lifelong learning, integrating formal, non formal and informal learning. As a result, Transfine proposed a European methodological framework for the recognition of non formal and informal learning and demonstrated that many existing tools at European or national level could be adapted for this purpose.
Refine, was a follow up to Transfine. The aim was to test the tools for a European methodological framework for the recognition of non-formal and informal learning. The main result was a proposal for 'Validpass', designed to be a framework portfolio of flexible tools to facilitate and promote the recognition and validation of non-formal and informal learning. It was proposed as a complementary element of EUROPASS, attempting to overcome some of the limits of the current documents included in EUROPASS for this purpose, and particularly to take into account volunteer activities.
A third strategic project, OBSERVAL, finished in October 2010. The aim of this project, which involved 24 country teams, was to provide a complementary approach to the one developed by ECOTEC. The Leonardo network Project created a European Observatory on validation of non formal and informal practices and results in European countries. The objectives were to collect and update data on regulations, arrangements, standards and references, methods and tools, results and statistics, to review national debates and discussions, links with other European initiatives (NQF-EQF, learning outcomes, adult education action plan,...), to identify good practice (case studies), to provide an nannotated bibliography and literature review (researches, surveys, reports,...) and to present these documents on a website in a common format that will allow both comparison and articulation between practice in different countries, sectors and contexts.
A follow up project, OBSERVAL-Net, started in December 2011. OBSERVAL-Net has developed a new observatory that collects and enhances the data from OBSERVAL, focuses on 3 main areas of VNIL (Bottom Up, the VNIL Profession and Work-Based Competence development and recognition), allows users to upload new reports, case studies, etc and gives them the opportunity to exchange with other VNIL professionals. Other projects: Euroguideval.
ECVET
The proposition by the Commission of European credit system for vocational education and training is directly linked to the development of ECTS, to its impact on mobility and on transformation of educational approaches in higher education institutions. On the basis of the conclusions of the report on the "ECTS extension feasibility project", the Commission indicated what could be the next step for credit-based systems. "A new European credit system would increase the transparency of national systems, encourage flexibility in the development of personalised study courses and of joint curricula and facilitate agreements for the mobility of learners, not only between educational sectors in the same country, but also between those of different countries. Credit systems are powerful enabling devices, which aid mobility between various forms of education and training. The application of ECTS to different systems and types of education will facilitate the recognition of learning gained both nationally and internationally" (Erasmus, ECTS extension feasibility project).
In the Copenhagen Declaration of 30 November 2002, the Ministers responsible for Vocational education and training stated that "investigating how transparency, comparability, transferability and recognition of competences and/or qualifications, between different countries and at different levels, could be promoted by developing reference levels, common principles for certification, and common measures, including a credit transfer system for vocational education and training".
This was confirmed by the Maastricht Communiqué on 14 December 2004. The Ministers responsible for vocational education and training (VET) from 32 European countries, together with social partners and the European Commission, agreed on the "development and implementation of the European credit transfer system for VET (ECVET) in order to allow learners to build upon the achievements resulting from their learning pathways when moving between learning systems. ECVET will be based on competences and learning outcomes, taking account of their definition at national or sectoral levels. It will take into account the experience of ECTS in the field of higher education and the Europass framework. The practical implementation should include the development of voluntary agreements between VET providers throughout Europe. The system will be broad-based and flexible to enable its progressive implementation at the national level, with priority given initially to the formal learning system."
And finally the Joint interim report from the Education Council and the Commission on "Education & Training 2010" implementation, stressed the new impetus given by the Copenhagen declaration to European cooperation on vocational education and training and underlined the foundations laid by Ministers responsible for VET of a European credit transfer system for VET.
What is ECVET?
ECVET is designed to facilitate the transfer, accumulation and recognition of people's learning outcomes, from one VET system to another, or from an informal learning situation to a formal learning context.
It requires and promotes transparency of qualifications and learning outcomes, procedures (quality assurance, assessment or recognition), learning processes and pathways, structures.
ECVET is based on the division of qualifications into units and on the description of learning outcomes of each unit using the three descriptors of EQF; knowledge, skills, and competences, making clear the EQF level of reference.
According to the "Technical Specifications" from the Commission concerning ECVET ("European Credit system for VAT: technical specifications", report of the Credit transfer technical Working Group, on 28 June 2005): "the definition and the description of learning outcomes in terms of knowledge, skills and competences and the organisation of the unit have to be done at national level by the competent body responsible for the relevant qualification and its implementation".
Qualifications and units are represented by a specific number of credit points. Credit points express the volume of learning outcomes in each unit and provide information on the relative weight of the units which make up a qualification.
Progress in implementation of ECVET
The European Commission, on the basis of the Copenhagen declaration mandate, published on 24 September 2004 a document presenting the principles and a reference framework for the implementation of ECVET ("European Credits Transfer System for VET -ECVET- principles and reference framework for implementation") and appointed a Working Group, the Credit Transfer Technical Working Group, to define concretely the new transfer credit system.
This was done in a report from the Working Group on 28 June 2005: "European Credit System for VET (ECVET), Technical Specifications".
On this basis, on 31 October 2006, the Commission launched a consultation - the Commission Staff Working Document: "European Credit System for vocational Education and Training (ECVET)", A system for the transfer, accumulation and recognition of learning outcomes in Europe". The Commission consulted countries participating in "Education & Training 2010", social partners, relevant European Associations and Networks, sectoral organisations and so on, during the period November 2006 to March 2007.
The consultation process was concluded in Munich, during the German presidency, on 4-5 June 2007 with a Conference entitled "Realising the European Learning Area". There was a global agreement on the positive developments that could be expected from EVCET in Europe, but participants also expressed the need for more clarification on some crucial points (such as credit points), for articulation and complementarity and not fusion with ECTS, and for the improvement of ECVET.
Following these generally agreed responses , the Commission appointed a Technical Working Group which worked from July 2007 to September 2007 to work on a revised version. Following that the final version will be prepared for adoption by the Commission in March 2008. On the basis of that decision, testing and experimentation, will be launched, on a voluntary basis, to contribute to the decision process by the Council and by the European Parliament. The decision process will also be informed by the emerging results from projects funded by the Commission in 2006 and 2007.
Debates
This slow and careful process of implementation must address the reactions- positive and negative - that appeared during the consultation process. The main problem has arisen from the higher education sector. Most actors, including the representatives of the ministries for higher education, oppose the approach defined by the Commission which seeks to adopt a global transfer system including ECTS in ECVET. Higher education representatives agree to work on the articulation between ECTS and ECVET, but do not want to merge ECTS into ECVET. They also agree that ECTS has to be developed, in particular to introduce programme descriptions in terms of learning outcomes, but they do not want undermine or write off much of the difficult and valuable work done in the last 20 years by universities and other HEIs, in particular the important work done by Tuning. Teachers and curriculum managers in departments and faculties would not understand that what they successfully achieved through a long process of persuasion, and sometimes painful battles, could be replaced by something which does not yet exist.

ECTS
ECTS started in 1989 within the framework of an Erasmus pilot plan involving 145 higher education institutions. It was set up in the beginning as a credit transfer project. The objective was to recognise periods of study abroad, and thus to increase student mobility in Europe. The first pilot plan has been progressively extended. In 1997-1998, 772 new institutions applied for the introduction of ECTS, 290 one year later.
Progressively, the ECTS system evolved encouraging a wider use of credits. Member States that had signed the Bologna Declaration identified ECTS as a key element of the strategy adopted. The action programme set out in the Declaration identified specified objectives such as ECTS comparable credit systems also covering lifelong learning activities and making possible accumulation. In January 2000, the European Commission published a report on "ECTS extension feasibility project" as a result of a Steering Group work based on the accumulated experiences and on consultations in numerous European countries. Overall, a broadly favourable consensus emerged from this survey. The report concluded: "The current state of the ECTS is relatively healthy and buoyant. It is accepted and used by over 1000 higher education institutions. The tools it uses are tried and tested and have been shown to be effective. However, it does require further embedding within institutions. For the current purposes of credit transfer ECTS works well". In this context, no changes to its procedures and processes are necessary. The principles that underpin ECTS (as a credit transfer system) will also serve to underpin a broader European credit (accumulation) system. However, a number of adaptations and developments to the existing ECTS tools and procedures would be necessary for its application to lifelong learning.
What is the Credit System?
A credit system describes an educational programme by attaching credits to its different components. According to the ECTS users guide: "The European Credit Transfer and Accumulation System is a student centred system based on the student workload required to achieve the objectives of a programme of study. These objectives should preferably specified in terms of learning outcomes and competences to be acquired".
ECTS is based on the principle of 60 credits for a full-time academic year. This means that a credit represents 25 to 30 working hours for a full time student (1500 to 1800 working hours a year).
Student workload is a key concept in ECTS; it means the time required by a learner to complete planned learning activities such as lectures, seminars, independent and private study, projects, examinations, presentations. Credits are allocated to all educational components of a study programme and to all types of programmes, irrespective of their length, composition and nature, including private study and work done by the student outside the 'classroom'.
The performance of the student is documented by a local or national grade. It is good practice to add an ECTS grade to facilitate credit transfer.
Key documents of ECTS
Three key documents are identified:
the regular information package or course catalogue of the institution which must be published in two languages (excepted for programmes taught in English)
the learning agreement: a list of courses to be taken with the ECTS awarded for each course
the transcript of records: list of courses taken, ECTS gained, local grades and possibly ECTS grades awarded
Diploma Supplement

Process of implementation
Conceived initially mainly as a mobility tool, the full implementation of the ECTS arrangements obliges higher education institutions to re-think, to revise, to re-organise their programmes or, at least to present them differently, trying to make them easy to read and compare for local/national or foreign students, and more widely for all people likely to benefit from a higher education programme. ECTS can potentially make higher education more attractive to everyone at home and abroad.
On the European side, the Commission appointed ECTS/Diploma Supplement Counsellors, established in each European country to provide advice on the implementation of the different "tools" of the Bologna process (such as the recognition of periods of study abroad) and to help universities in this perspective. They are higher education personnel who have a longstanding experience in the field.
This strategy was reinforced by the appointment of Bologna Counsellors, who in 2007 became Bologna experts, organised in national teams, bring together academics and students, identified as potential resources for higher institutions and as contributors to national and European debates on the implementation of the Bologna process.
Recently, the Commission decided to award "labels" to institutions that apply ECTS in a correct way in all degree programmes. Each year, some institutions receive this label following a selection process of applications received.
Evolution and debates
A recent document presented by the Commission, ECTS KEY FEATURES, proposes an updated and broader definition of ECTS. "ECTS is a learner-centred system for credit accumulation and transfer based on the transparency of learning outcomes and learning processes. It aims to facilitate planning, delivery, evaluation, recognition and validation of qualifications and units of learning as well as student mobility. ECTS is widely used in formal higher education and can be applied to other lifelong learning activities". New ECTS user's guide.
ECTS, ECVET and ULLL
The most recent definition of ECTS is:
"ECTS is a learner-centred system for credit accumulation and transfer based on the transparency of learning outcomes and learning processes. It aims to facilitate planning, delivery, evaluation, recognition and validation of qualifications and units of learning as well as student mobility. ECTS is widely used in formal higher education and can be applied to other lifelong learning activities".
It is clear from this revised definition that progressively the notion of 'accumulation of credits' leading to qualifications is becoming more important, that the notion of learning outcomes is becoming central and that the processes tends to cover not only programmes of initial higher education but also lifelong learning provision.
Thus ECTS appears more closely linked to the lifelong learning perspective, to validation of non formal and informal learning, to EQF and NQF.
But such a perspective provokes debate. Currently, the main issue is about what would be the best basis now to define credits: contact hours? workload? or learning outcomes? ECTS has moved the debate from contact hours to student workload but now the challenge is learning outcomes - how does that concept fit with the idea of credit based on workload?
The Tuning project has made as significant contribution to this discussion, trying to link learning outcomes, competences and ECTS workload based credits. Tuning calls for a new concept for ECTS. According their recent report (Universities' contribution to the Bologna process, an introduction , December 2006), it implies the change of the European Credit Transfer System into a European Credit Transfer and Accumulation System, in which credits no longer have a relative value but an absolute one and are linked to learning outcomes".