12 mai 2012
By Janet Steffenhagen. Photograph by: Arlen Redekop.
High dropout rates suggest money is wasted, ministry says.
Thousands of British Columbians who have graduated from high school but want to upgrade their skills by taking Grade 10-12 courses that have been offered free of charge for five years will soon have fewer choices — unless they're willing to pay tuition or study online.
The Education Ministry is halving the number of adult-education courses that are eligible for government funding, saying exceptionally high dropout rates in some classes suggest money is being wasted.
The program cost $15 million this year, up from $1.5 million in 2007-08, the year tuition fees were lifted to help B.C. residents wanting to advance their education.
The decision means school districts, which offer the courses to graduated adults and receive per-pupil grants from government, must either cancel dozens of courses or re-introduce fees. Districts have begun spreading the word to students and that has many fuming.
"For $50 I will be able to do it, but $400? No, and not for any of my friends," said Louma Ayoub, 46, a Syrian-born mother of three who is taking Digital Media Development 11 at the Roberts Education Centre in Vancouver's West End. Ayoub is studying website design and social media at Roberts while she completes an interior design certificate at Vancouver Community College.
"I can't pay for both of them, I pay there but I still have the support here."
Ayoub's media instructor Ken Buis said that when he asked his class of 30 students who would be able to afford the $425 fee that is being discussed for the course, no one put up a hand.
"They're coming here to re-educate themselves so they can get a job," Buis said. "They can't afford $425; they can hardly afford their rent."
Dominik Lichy, 25, was also upset to hear that he'll have to pay to enrol in Physics 12 next term. He's been retaking high school courses at the Main Street Education Centre in order to study architecture and building engineering at the B.C. Institute of Technology. Slapping a fee on students' efforts to improve their education is ridiculous, he said.
Enrolment in these adult-education courses has increased tenfold since 2007, but the ministry says too many people have been signing up for classes and then dropping out after a couple of months. In some cases, completion rates were as low as 35 per cent. This year, total enrolment in these courses was the equivalent of 3,386 full-time students, up from 368 in 2007-08. Since many students take only one or two courses, the number of people affected would be much higher.
Starting this summer, the ministry will pay for several dozen adult-education courses in English, math, social studies and science (including Chemistry 11, Physics 11 and Biology 12). But it will no longer fund others, including Grade 12 courses in physics, calculus, financial accounting, law, social justice, comparative civilizations, marketing, tourism and geography.
The ministry says it is still funding the most popular classes and its pared-down list served 60 per cent of last year's total enrolments.
Free adult education courses for those who have not yet graduated from high school are not affected by this decision.
The government is also altering the way it distributes money for graduated adult courses. Instead of giving school districts the full amount up front, it will hold back 25 per cent until the students have completed the courses. Next year, that holdback will increase to 50 per cent.
That will serve as an incentive to districts to ensure classes are interesting and can hold students' attention, a ministry spokesman said.
At the same time, more courses will be offered for free online through Open School B.C. By fall, British Columbians will be able to take French 10, English 10, Math 10, English 11, Biology 11, Chemistry 12, Physics 12, Communications 12, B.C. First Nations Studies 12 and Intro Spanish 11, the ministry said. More online courses are expected to be added the following year.
Lichy said he would consider taking Physics 12 online.
Deputy education minister James Gorman said school districts were consulted before they were informed of the revisions in a letter last week. Spokesmen for the two largest districts — Surrey and Vancouver — said staff are weighing the full impact of the decision.
"We expect we'll see a decrease in enrolment," Vancouver communications manager Kurt Heinrich said.
Vancouver will continue offering the same courses, but for a fee to be determined through consultations with other districts, he added.
Meanwhile, enrolments in high-school courses for adults who have not yet graduated from Grade 12 have declined from five years ago. Those free classes had the equivalent of 6,779 full-time students this year — down from 8,346 five years ago — and cost the ministry about $30 million.
By Andy Metzger.
A 40-page study discussed at the capitol Thursday concludes investments in public higher education diplomas and college certificates might provide the best chance at improving the Massachusetts economy, but state lawmakers have no plans yet to increase funding to levels recommended by the study's authors.
"I think the challenge before us is how do we fund this," said Joint Committee on Higher Education Co-Chairman Rep. Thomas Sannicandro, discussing a paper by two UMass academics that argues state funding of higher education should be nearly doubled.
The paper, "Economic Impact of Investment in Public Higher Education in Massachusetts: Short-Run Employment Stimulus, Long-Run Public Returns," argues that an $800 million boost to higher education would produce an extra 11,200 graduates per year, lead to a roughly $740 million gain in income tax revenues, and generate a better payoff than that same investment in casinos, health care or a tax cut.
"In other words, a dramatic increase in the state's investment in public higher education is an exceptionally good deal for the entire Commonwealth and should be vigorously pursued by policy makers," the study concludes.
Speaking before lawmakers on Thursday morning, the paper's authors Michael Ash, an economics and public policy professor, and Shantel Palacio, a public policy and administration graduate student, said public higher education is underfunded by $800 million. Their paper assumes an increase in higher education spending of that amount could be funded by a tax increase, an idea not currently on the table among Beacon Hill leaders, with resulting job increases outpacing those lost due to the tax hike.
According to Ash and Palacio, an $800 million spending boost to higher education would produce between 11,766 and 13,470 jobs – both directly, through the hiring of professors and construction workers to build new buildings, and indirectly by creating jobs for vendors and others, according to the study. After accounting for jobs lost due to the tax hike, the net new jobs from the investment would be 6,580 in the first two years, with a net increase of 8,284 in subsequent years.
Casinos would produce about 1,200 or 1,300 fewer jobs, even accounting for the vendors and others who would benefit from the investment, the paper states. Another $800 million spent on health care would only do slightly better than casinos, and tax cuts – which would not create any jobs directly – wouldn't even do half as well at job creation as the higher education spending, according to Ash and Palacio.
Palacio and Ash also argued that beyond the direct stimulus of $800 million, the new college graduates would cost less and pay more to the state.
"This graduate will pay more taxes, since his or her income will be higher, and will put less of a burden on public services," the paper says. "No other use of a comparable outlay of public funds can match this one in terms of how it repays the investment."
The House's fiscal 2013 budget raises higher education funding to $988 million, up 6 percent from $929 million last year but less than the $1 billion budgeted before the 2008 market crash that led to the Great Recession.
In fiscal year 2009, Massachusetts per capita higher education funding of $196 per person was 33 percent below the national average, leaving the state ranking 45th among the 50 states, according to a December 2011 fact sheet produced by the Public Higher Education Network of Massachusetts.
"While we have much to be proud of in Massachusetts, there is still much more that we can do," said Higher Education Co-Chairman Sen. Michael Moore.
The question of what to do next is as much about higher education as it is about economics.
According to Sannicandro, after the G.I. bill funded veterans' college educations, the percentage of Americans with college degrees jumped from 6 percent to 20 percent.
"That educated workforce is what made us a powerhouse in the world," said Sannicandro.
The study concludes jobs in higher education, generally pay better than in casinos and construction and are roughly on par with the pay in hospitals – not including doctors. And those professors and teaching assistants produce more college graduates, who boost the economy by drawing on fewer social services, earning more income and staying out of jail more than the population as a whole, according to the paper.
Over a lifetime, the state spends about $100,000 on welfare, unemployment compensation and jail time for the average high school graduate, but only about $34,000 on someone who has received a bachelo's degree and $54,000 for someone with an associate's degree, according to the paper.
The paper claims that for the roughly $49,000 it costs for someone to attain a degree from a state school, the graduate adds double that back to state coffers. To the state, the difference between someone with a college degree and a high school diploma is $198,000 over that person's lifetime – in tax bills for the graduate's higher earnings as well as the reduced draw on public services such as welfare and Medicaid.
The list goes on for the benefit of a college education – less cigarette smoking, lower divorce rates, greater dependability. The study was prepared with a grant from the Massachusetts Society of Professors.
Just over a week ago, the Bucharest communiqué was adopted, the seventh communique in the Bologna process that started in 1999. Now encompassing 47 countries it often tends to be glorified by the actors involved as a great success and hallmark of changes achieved, whereas the research evidence tends to be more modest in terms of the actual impacts and convergence.
The presentation of the latest stocktaking report at the ministerial conference indicated a number of fuzzy areas (e.g. lifelong learning) and a number of areas where progress had not been very huge. However, there are areas that seem to be highlighted as success stories by all involved in the process. Indeed, for a number of reasons (and these varying from country to country) Bologna has arguably been an initiator for a number of reform processes in Europe and beyond, and there has been some structural convergence in terms of the introduction of the three cycles.
While the initial deadline for building the European Higher Education Area was in 2010, this did not mark an end point in the process. As the Romanian minister of education formulated it: there really are no alternatives so one needs to
reinvent the Bologna Process
. So – what would that entail and did the ministerial conference indicate that this reinvention ris either taking place or likely to take place?
Well, its large

The first thing that strikes you is the sheer scope of the event. Not only has the Bologna process now include 47 countries in Europe and Central Asia, the Bologna Policy Forum additionally attracts participants from all over the world, and the latest conference attracted in total representatives from approximately 100 national representations and 30 stakeholder organisations
as indicated by the organisers
.
Space for discussion or an empty space?

Despite Bologna in practice being a statement of intent and not having any legal status and implementation requirement, it provides a space for discussion and shared experiences. This creation of a "space for discussion" was also evident in many of the statements made by various representatives during the sessions and panel debates. However, one could also question what this space really means? At the end of the day it is national governments and national interests that set the agenda and decide locally. Thus, one could argue that the actual relevance of this discussion space is to what extent it is useful for the actors in their local context (whether in terms of becoming more European or pushing through unpopular reforms as necessary).
Overall, it appears that there are somewhat different approaches that countries take for this event: some discuss/participate actively, some appear to be giving speeches for the audience at home, and some just do not put too much effort. A similar division seems to apply the stakeholder organisations, but one could argue that they are overall much more active. Perhaps unsurprisingly the students were amongst the most active during the event and largely responsible for public funding becoming the big discussion topic during the debate. Of the draft proposal of the communique that was discussed it was in particular the "public" aspect of funding and automatic recognition that received attention.
The F-word and automatic recognition

Called the "F-word" by one of the panel chairs, funding and in particular public funding was the big issue where perhaps a clearest division of perspectives and perhaps even tension around the final formulation was identifiable – amendments, modified amendments and alternative formulations were suggested, and the final version ended up being "
we commit to securing the highest possible level of public funding for higher education and drawing on other appropriate sources
". This formulation looks quite harmless and is perhaps of the type one tends to overlook in a document, however – its initial version was a basis for heated debates.
One can understand the students' cause on keeping this ideal, even if only for symbolic purposes. The students considered keeping the final formulation with "public funding" as part of the formulation as a
victory
, as they Tweeted later on the ESU Twitter page. But, as indicated by some of the other contributions in the debates, this wording in the communique is perhaps a minor detail where an intergovernmental statement of intent does not
really
have leverage at home where political priorities might set set a different agenda. At the end of the day,
"highest possible level of public funding
" can also mean very little funding in a tight fiscal situation.
The second issue, in essence a much more controversial suggestion of automatic recgnition was in practice actually being overshadowed by the public funding discussion. While there were some concerns voiced of whether this is realistic and what this would mean in practice, the discussion never really picked up on this topic. One can only speculate whose victory
this
was.

Bologna – revitalized?

So – much discussion about public funding, a communique with not too many provocative aspects, with some ambitions of automatic recognition. Does this provide the new revitalization to the process? When the stakeholders were asked to formulate the relevance of Bologna in the future, the answers were not so very clear. Of course, it is only natural that they see the relevance from the starting points of the groups they represent, but it was quite difficult to see the clear points aside ideational importance of student-centeredness, respect towards diversity, cohesion, public importance of higher education and so forth. The bigger not-so-measurable concepts.
Another thing that sort of lurked behind the discussions was that it is increasingly difficult to distinguish EU activities from the Bologna process. While called the
"lisbonisation of Bologna" in research literature some years ago
, this division has become even more difficult. In one of their statements, Commission themselves called Bologna aims not complementary, but as a part of their policy objectives.
So now what? While one should not make too strong conclusions from little evidence, one should note that it is fewer and fewer ministers of education who participate, and the conferences seem to take place further and further away from the traditional core of Europe. As any integration process – the broader the scope and the more members you try to integrate, the more superficial the integration becomes.
Symbolic? For the time being it seems to have become the never-ending saga that seems to have less actual meat on the bones, and the increasing number of countries make it more difficult to create a stronger platform for debate. But can it function as a space for discussion? Of course – but that requires all members to be actively interested in discussing.
The research group on higher education at University of Oslo,
HEIK (Higher Education: Institutional Dynamics and Knowledge Cultures)
, has recently published a new issue in its working paper series. The working paper series features papers on various issues related to higher education research, both from HEIK members and selected guests who have been speakers at various HEIK academic seminars and similar events.
In this edition, dr. Romulo Pinheiro examines the establishment of a new university in Southern Norway and the types of challenges and contradictions this process creates. He concludes that in their quest to balance the global (excellence) and local (relevance) aspirations, the institution faces a number of challenges. The paper can provide valuable information to both higher education researchers and institutional managers.

You can download the working paper (pdf) here.

You can also view a video recording of the initial version of the paper being presented at a HEIK seminar
.
Les PRES, les universités et les écoles sont à votre service.
Accueil en France
L'arrivée dans un nouveau pays est souvent délicat. De nombreux établissements ont donc mis au point des dispositifs d'accueil destinés à leurs étudiants internationaux. Ces dispositifs sont variés: il peuvent comprendre l'accueil à l'aéroport, la réservation de logement, un suivi personnalisé, un tutorat ou des cours de français langue étrangère. Les PRES, les universités et les écoles sont à votre service.
Le Catalogue CampusFrance propose pour chaque établissement doté d'un service d'accueil une fiche d'information spécifique qui détaille le dispositif dont vous pourrez bénéficier. Vous pouvez également prendre connaissance l'ensemble de ces services en cliquant ici.
Les fiches accueil
Ces fiches présentent les prestations d'accueil des étudiants dans les établissements adhérents de CampusFrance.
Quelques exemples en Région PACA

Aix-Marseille
.
Nice-Sophia Antipolis.
Pres AMU.
Avignon.

Ressources
Les étudiants étrangers en France et français a l'étranger
.
Code de l'entrée et du séjour des étrangers et du droit d'asile
.
La compétitivité éducative internationale de la France
.
Un rapport estime que la France doit améliorer l'accueil des étudiants étrangers, Le Monde
.
Accord franco-chinois pour l'accueil d'étudiants chinois en France
.
The PRES, universities and schools are at your service.
Home in France
The arrival in a new country is often tricky.
Many institutions have therefore developed reception arrangements for their international students

.


These sheets show the benefits of home students in member institutions of CampusFrance.



Aix-Marseille
.
Nice-Sophia Antipolis

.
PRES AMU

.
Avignon

. More...
Confirmer son inscription auprès de l'établissement qui vous accueille, université ou école. Cette démarche concerne tous les étudiants, y compris européens.
Inscription - Confirmer son inscription à l'université
C'est obligatoire pour tous les étudiants. L'inscription dans l'enseignement supérieur français est annuelle et individuelle. La procédure est identique dans toutes les Universités.
A l'Université, l'inscription définitive comprend deux parties:
L'inscription administrative
Cette formalités d'inscription se traduit par la délivrance de la carte d'étudiant. C'est à cette occasion que vous adhérerez à la Sécurité Sociale étudiante, choisirez votre mutuelle et effectuerez le paiement des droits de scolarité. Consultez le site de votre université pour connaître les dates et les modalités pratiques de cette démarche.
L'inscription pédagogique
Cette seconde partie de l'inscription concerne directement l'enseignement et la validation des contrôles de connaissances: vous y choisirez vos options et organiserez votre année d'étude.
Dans les autres établissements d'enseignement supérieur
Les autres établissements d'enseignement supérieur fixent librement leurs procédures d'inscription, qu'ils communiquent normalement aux étudiants concernés avant leur départ. Il faut être très attentif notamment aux pièces demandées, la présentation d'originaux étant souvent exigée.
Voir aussi La validation du VLS-TS.

Bekræft sin registrering med den institution, der byder dig velkommen, universitet eller skole. Dette vedrører alle studerende, herunder Europa.
Registrering - Bekræft registreringen på universitetet
Det er obligatorisk for alle studerende. Indskriften på fransk videregående uddannelser er årlig og individuelt. Proceduren er ens i alle universiteterne. Se også Validering af VLS-TS. Mere...
As Executive Director of the EAIE, I often have the chance to speak to professionals in higher education about the issues they face.
I find myself in a privileged position because I have worked for 25 years in the field. Since I became Director I have gained a much broader perspective on higher education, with many opportunities to hear stories and observe what is going on. I also like to follow the discussions that are taking place on LinkedIn. This new EAIE blog gives me, and others, the opportunity to share observations and to receive your comments and feedback.
Recently, there has been a lot of discussion about the best way to structure international activities within an institution. Is centralised better than decentralised? Does the answer to that question depend on the phase of internationalisation an institution finds itself in? If decentralised, should there still be a central strategic unit? What are the pros and cons?
It is interesting to see how many colleagues seem to have strong opinions about this, based on their own experiences. Having been actively involved in reorganisation processes a few times, I have found that the choices a university makes are not fully based on rational reasoning, but often the result of new leaders having their own agenda. I strongly support the idea that an institution needs new views and perspectives on a regular basis and that change can be extremely healthy. I do, however, doubt that organisational change is often driven by well researched and objective criteria. In order to do so, a clear set of goals and proven ways to achieve those goals in certain historical and cultural settings should be available. To my knowledge there are not any. So very often, institutions start copying each other without knowing if a successful operation in one institution is the most effective option for use in another. Or, they just rationalise their choices by saying that in this phase of development we better do things this way. Often, I have found that changes are meant to shake up the organisation and get rid of people who are (rightly or wrongly) perceived as hindrances to the new setup or simply belonging to the old reign of a predecessor. In such situations I have two recommendations:

For the leaders:
A true leader should be happy when he/she can say: "I did what I believed was best to further the organisation: I did my thing and contributed my part."

For international officers:
Your own professional life cycle, or expiration date, can come to a sudden end when things that you have been carefully building up over the years are being changed without any good reason. When this happens, it is time to use your knowledge, skills and experience in a new setting.
Do you have any good examples of changes in the set-up of the international operations at institutions that were firmly grounded on analysis and rational choices? Please do share them with us along with your thoughts on this issue by posting your comments below. EAIE members can download Leonard Engel's entire article which appeared in Spring
Forum,
by logging on to the Member Centre on the
EAIE website
and visiting the Library.
In 2013, the EAIE will hold its 25th Annual Conference at the very cusp of Europe: Istanbul.
Straddling Europe and Asia, Istanbul is the largest and most monumental city in Turkey, and is a melting pot of cultures which mix harmoniously on both sides of a city split geographically by the Bosphorus strait. This bustling city is home to over 13 million people, and from 10 to 13 September 2013, will also be home to the EAIE Conference.

Conference theme
The theme for 2013 is
'Weaving the future of global partnerships'
. What better place to host the 25th Annual EAIE Conference than Istanbul where two continents meet. By drawing together different cultures, nationalities, and professions within higher education, the EAIE has, since its inception, developed a platform for creating dynamic partnerships not only within higher education but also with stakeholders in the societies we serve. The fabric of international education is becoming more and more colourful as individuals and institutions around the world increasingly focus on internationalisation. The EAIE is committed to playing an active role in bringing together all these individual threads of international education to celebrate the diversity in the field, foster knowledge exchange and prepare participants for the future.

Conference centre
We've secured one of the largest conference centres in Turkey for our 25th Annual Conference, the ultra-modern Istanbul Congress Centre. Built in 2009, the congress centre has hosted numerous high level meetings including those of the World Bank and the IMF. Set in an ideal location, with spectacular views over the Bosphorus, the congress centre is less than ten minutes walk from the famous Taksim Square and within easy reach of one of the world's greatest architectural achievements – the Haghia Sophia mosque. We're sure that the rich cultural backdrop of Istanbul will inspire you to share your knowledge and experiences and cultivate new parnterships in this truly dynamic setting. Istanbul 2013 promises to be a truly memorable conference bursting with opportunities, and we hope you will join us!

Past conferences
Each year the conference takes place in a different city, and you can find details about all of the past EAIE conferences here. To date, there have been 23 EAIE conferences, steadily expanding over the years to reach thousands of higher education professionals. The last conference in 2011 in Copenhagen drew over 4000 participants from more than 80 countries around the world. Thanks to each participant who has made the EAIE conferences a success.

24th Annual Conference: 11-14 September 2012, Dublin.
23rd Annual Conference: 13-16 September 2011, Copenhagen.
22nd Annual Conference: 15-18 September 2010, Nantes.
21st Annual Conference: 16-19 September 2009, Madrid
20th Annual Conference: Antwerp 2008
19th Annual Conference: Trondheim 2007
18th Annual Conference: Basel 2006
17th Annual Conference: Kraków 2005
16th Annual Conference: Torino 2004
15th Annual Conference: Vienna 2003
14th Annual Conference: Porto 2002
13th Annual Conference: Tampere 2001
12th Annual Conference: Leipzig 2000
11th Annual Conference: Maastricht 1999
10th Annual Conference: Stockholm 1998
9th Annual Conference: Barcelona 1997
8th Annual Conference: Budapest 1996
7th Annual Conference: Milano 1995
6th Annual Conference: London 1994
5th Annual Conference: The Hague 1993
4th Annual Conference: Berlin 1992

3rd Annual Conference: Montpellier (La Grande Motte) 1991
2nd Annual Conference: Amsterdam 1990
1st Annual Conference: Amsterdam 1989

The Nomura Center for Lifelong Integrated Education has organised international conferences since 1977:
the first International Forum was held in Tokyo, followed, in 1978, by a conference in Paris at UNESCO, in which HQ and UIL participated and which has been organised every four years since.
The Centre celebrated the 50th anniversary of its foundation by Ms. Yoshiko Nomura, on 4 March, in Tokyo. The Centre is based on humanistic and spiritual ideas about human development and its harmony with nature.
Japan is still focusing much of its efforts on the aftermath of the earthquake and the destruction of the Fukushima Nuclear Plant in 2011. UIL's director Arne Carlsen in his congratulatory speech stressed that Japan is also concentrating on the field of adult education in 2012 since the recommendation adopted by CONFINTEA III in Tokyo in 1972 was developed into a Recommendation on Developing Adult Education, adopted by the UNESCO General Conference (Nairobi, 1976). The Executive Board of UNESCO decided in February 2012 to adopt a Plan of Action to make observing this Recommendation's actual implementation part of the monitoring of CONFINTEA VI follow-up.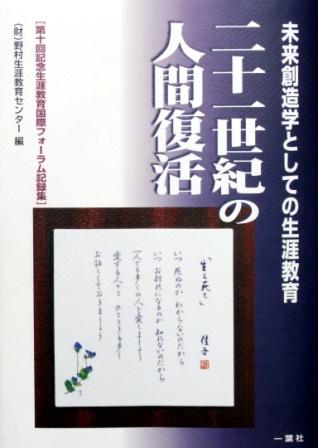 Lifelong Integrated Education as a Creator of the Future Human Restoration of the 21st Century
The Collection of Records of the 10th commemorative International Forum on Lifelong Integrated Education.

To leave the beautiful planet to our children
... All of us living in the 21st century have an inescapable duty to create the future notwithstanding the collapse of human values we endure at the micro level and the destruction of the global environment we face at the macro level.
How precious it is to have a place where we can come together from different backgrounds and cultures and to be able to communicate candidly...
We invite you to join us at the commemorative 10th Forum to address together this epic theme that spans the world and all walks of life across the generations.
Nomura Center for Lifelong Integrated Education
Yoyogi 1-47-13, Shibuya-ku, Tokyo 151-0053 JAPAN
Tel: +81 (0) 3-3320-1861 / Fax: +81 (0) 3-3320-0360
Email: intl@nomuracenter.or.jp
By Michael Roth, President, Wesleyan University. Beyond Information Transfer: An Initiation Into Lifelong Learning

Early May usually brings an unusually large number of press reports about higher education. Many high school seniors have just made their decisions about where they will be going to college, and those preparing to graduate from universities across the country are confronting transitions into an increasingly unwelcoming economy. Recently, there have been dozens of stories about whether those college years were worth the investment of time and money. Are American colleges and universities doing enough to prepare their graduates for the competitive world beyond the campus?
In this first week of May there were two stories that caught my eye. The first was on
NPR
, a media outlet usually pretty friendly to higher education. I know that many of its listeners, and almost all of its reporters, have benefited from broad educational experiences. The reporter on a recent story about liberal arts colleges, though, was wondering if we can still afford a wide-ranging, liberal education in our hyper-competitive world. Liberal arts schools, she said, "have long had a rap of being a kind of luxury, where learning is for learning's sake, and not because understanding Aristotle will come in handy on the job one day. But economic pressures and changes in the world of higher education have now put them more on the defensive than ever."
The reporter on the story is
Tovia Smith
, herself a graduate of Tufts University, a fine liberal arts school. Smith has covered or produced stories on an amazing range of topics, from race relations to orphanages, from Clinton's impeachment to Massachusetts prisons, "as well as regular features on cooking and movies." I took this list from the NPR website, which also tells us that Smith taught journalism in Africa. Has learning for learning's sake been a luxury for her, I wondered, or is it an integral part of her career and her life? She sure seems to have benefited from her Tufts education.
The second story that drew my attention was the
announcement
that Harvard and MIT were joining forces to offer "free online, college-level courses under a joint superbrand known as edX." This is a great opening of access to the wealth of learning these universities possess. Both schools are among the most selective in the United States, and this venture means "[a]nyone with an Internet connection anywhere in the world can have access,'' as Harvard president Drew Faust put it. The Cambridge powerhouses are inviting other schools to add their course materials to the platform they are developing, which will also allow researchers to study how students best learn online.
Where does this leave residential liberal arts schools? Nobody knows for sure how the availability of online courses will affect students' interest in physically coming to a college to learn in a campus setting. Interest in attending MIT and Stanford has only grown as these universities have made course materials available online, and there is no sign that this new edX venture will reduce the desire to study in Cambridge, Massachusetts. That's why the analogy between higher education and the newspaper business, drawn in this morning's
New York Times
by the liberally educated
David Brooks
, doesn't work. Nobody rushes out to by the
Times
because they experienced it online.
Why is there still such a strong desire to be part of a diverse campus community when one can access content (often for free) in one's own way at one's own pace? It's because a campus community still functions as a powerful catalyst for lifelong learning -- and the ability to keep learning over a lifetime has never been so essential as it is today. Liberal arts education no longer draws on the cultivated homogeneity of a country club (or the boardroom). Today selective schools create communities in which people learn from their differences while forming new modes of commonality. We don't do this to be politically correct. We do it to prepare students to become lifelong learners who can navigate in and contribute to a heterogeneous world after graduation.
Our campuses should maximize each undergraduate's ability to go beyond his or her comfort zone to learn from the most unexpected sources. By contrast, in the carefully curated online communities we create, we can reduce chances of surprise encounters; we can distance ourselves from sources with which we are unfamiliar. Our social networks are virtual, gated communities. We just filter out (or "unfriend") the points of view we don't want to hear. Our campuses, on the other hand, should be places where diversity leads to learning as our students come to see differences among people as a deep resource for solving problems and seeking opportunities. Online education can complement this educational environment very well. But it does not replace the need for it.
It's early May, and as we prepare to welcome the class of 2016 and congratulate the grads of 2012, we should remember that their broadly-based, reflexive education is much more than information transfer. That kind of exchange can be done very well online. Our education, our immersion in communities of learning, is an initiation into a lifetime of learning, of solving problems, of creating opportunities, of experiencing the pleasures of the arts -- and of participating in the pubic sphere.

Lifelong learning isn't a luxury, although it does require investment.
The investment enables our graduates to engage more fully with the world around them and exercise their responsibilities as citizens, to become shapers of the economy and culture of the future rather than be just spectators -- or victims.